Our car ran at Le Mans in 1966, the only race in its competition history. It is one of the most original GT40s in existence.
THESE CARS
The Big Three American automobile manufacturer had agreed, more or less, to stay away from international racing. However, by the late-1950s sports car racing was a major influence throughout the world. A victory at the 24 hours of Le Mans assured bragging rights and a sense of technical superiority. Ford initially tried to partner with the Ferrari operation hoping to compete but there were disagreements between the two individuals (Henry Ford, Jr. and Enzo Ferrari) so that Mr. Ford, with a substantial cash surplus, went it on his own. His organization recognized that they were far behind in competition technology, particularly at the level of Le Mans.
By now he wanted to beat Ferrari, no expense spared. In fact, as pointed out in our exhibit, America did not win a Le Mans race since 1921 and had no dominant success with the European-sponsored Stutz efforts of the 1920s nor the Cunningham activity throughout the 1950s and early 1960s. So Ford teamed up with Lola, a company run by Eric Broadley who had experience in producing mid-engine sports racers with Ford power.
To be a Ford, this car needed design that was related to their existing V8 with a central camshaft and a push rod overhead valve system. They mated a standard Ford Fairlane engine, capable of 350 horsepower to a special force feed lubricated transaxle. Initial testing of these cars was disappointing but with the new gearbox and the installation of a Shelby Cobra cast iron V8 engine, the performance was better. They then brought in Shelby to replace Eric Broadley and the Lola team. Under Shelby's direction the new GT's came in 3rd in the 1965 Daytona race. Even with big block cars the 1965 Le Mans was a failure for the Ford team.
After development with the 4.7 liter engine and the T-44 gearbox, they perfected the GT40 and the new Ford team now headed by John Wyer. These new cars called Mark II's were ready for the 1966 Le Mans in which fight were entered by three different private teams. The particularly brutal 1966 race (only 15 of the 55 starters finished) was won by three Mark II Ford's who completed in a dramatic 1-2-3 finish.
OUR CAR
They supplied our car to the British racing organization Alan Mann Racing as a lightweight chassis prepared by Shelby American for Mann to complete as a Mark II coupe. Its yellow and black stripes made it a standout during the race. Driven by Sir John Whitmore and Frank Gardner, it retired after five hours apparently because of clutch problems. They took it back to Shelby American International and it would go on a dealer tour in the Great Lake regions.
It was stored in 1967 and then in 1971 sold to Dr. Roger Wilcox. He had it restored at Holman & Moody according to the criteria applicable used at the time. In 1987 when we gained it from Rick Nagle's museum, in a deal brokered by George Stauffer, we could see that although it was mechanically complete; the engine was not as original as the rest of the car, that was otherwise in excellent condition. Recognizing that a proper engine was needed, we entrusted the car for restoration to a GT-40 expert, soi-disant, who promised to give us the original bits we needed if we allowed him to do work on the car.
Entrusting the car to him was a serious mistake, and by far the worst experience I have had in the automotive hobby. Without going into detail, he kept the car in his possession for years, without significant work being done. The final insult was when we found out he had sold the most irreplaceable part of our car, the special T44 transaxle! This led to a series of actions during which he had to supply us with a T44 transmission which was original and restored by Mike Teske, who generously respected our penchant for detail.
A correct cast-stamped racing block, got from the remnants of the Kar Kraft racing organization finally obtained and all the original accoutrements of a true 1966 Mark II racing car added (aluminum racing heads, special carburetor, special manifolding, et cetera). The new engine was given high level dyno testing, and the car was completed by Ed Tatios with the help of Mark Allin so that, finally, we had a correct Mark II. Since then we have enjoyed its use and gratefully appreciate all those who helped us get this magnificent vehicle on the road in the correct configuration.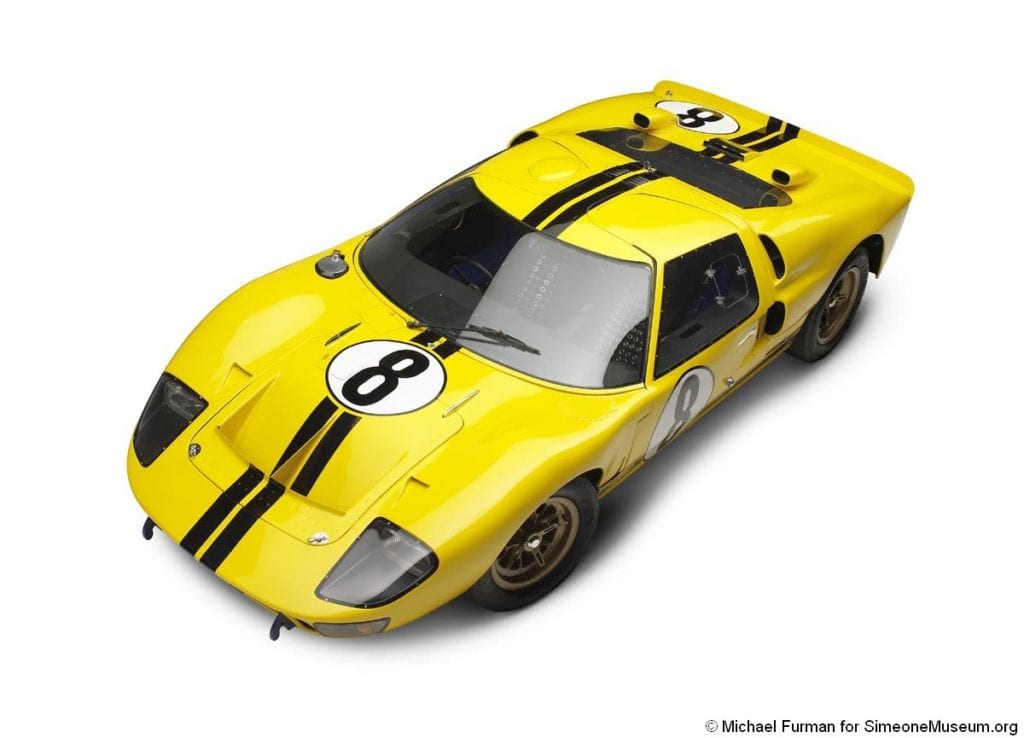 View Related Videos