Our car is in unrestored, original condition with only 16,000 km. During WWII, it was hidden under hay in a farmyard to protect it from certain seizure by German authorities.
THESE CARS
By the mid-1930s BMW was making small 747 cc side valve Dixi cars of modest performance. By the late 1920s, the German automobile club rationalized motor racing as, "To serve the promotion of the car industry for the common interest of traffic and the national economy and all sections of society involved in power propulsion" (a most unusual declaration of the spirit of competition). Only a few drivers had received racing licenses and German racing journalist Ernst Rosemann in 1938 wrote, "Car racing will never give drivers the prospect of making a living, but sports car racing must and will remain a matter of amateurs."
As one can see from the linked photos, it was both sporting and elegant with its folding windshield, disappearing top, and gently tapering wings. As a competition car its successes included winning the 1939 RAC rally, class win in the Mille Miglia 1938, and overall in 1940, class win in the 1939 Le Mans 24 hours, among others. Forty-eight right hand drive versions called Frazer Nash-BMW were included in the total production of 464 cars. In Germany they soon became popular with wealthy drivers and in particular they attracted the Nazi racing drivers club (NSKK) who encouraged modifications to improve speed, reliability and endurance. In the late 1930s swarms would take to the Nurburgring. Note the "SS" (Spezial Services) on car number 19 in the historic photograph.
When the BMW 328 burst on the sports car racing scene it left a series of comparable cars in its trail. This 2-liter car was faster than its supercharged competition and was a surprise because conservative motor mavens Fritz Fiedler and Rudolf Schleicher designed it. Characterized by a lightweight construction comprising a tubular A-frame chassis, buttressed by two large tubular side members and three rectangular cross members. Independent front suspension and a live rear axle, large hydraulic four-wheel drum brakes, and telescopic shocks all around supported outstanding handling.
The 1971 C.C. six-cylinder engine, with a push- rod head fed symmetrically inclined 80-degree angle valves, and could generate 80 bhp at 4500 rpm. Our version has a ZF 4-speed gearbox though after Serial 85281, a Hurth transmission and a heavier rear axle.
Most of the bodies were clad in aluminum, but they sent some to outside builders with steel construction. Attractive design features include built-in headlights, cut down doors, two piece folding windshield, recessed spare wheel, and a hood unseen behind the driver's seat. During its first four seasons it won 141 races in 172 national and international events.
OUR CAR
According to BMW factory archives, they delivered the car to the Dutch BMW importer in Rotterdam on February 13, 1938, with the original color, ivory white, the exact paint it still wears. It saw little use before World War II and then hidden under hay in a farmyard as German authorities routinely confiscated civil vehicles for use by the military. After the war they sold it to a company, Salmons, who imported typewriters via second-hand car dealer in Soet, the Netherlands, in essentially unused condition.
Mr. Salmons soon got a van and stopped heavy use of the BMW. In 2002, the car received a mechanical overhaul, but they left the original leather upholstery and all details intact. Where the paint worn through few spots, we carried a highly specialized restoration out so that what one sees now is original paint with various touch-ups where the original finish was irreparably damaged. The speedometer read 14,404 kilometers when tested and blessed in 2002 by John Pierre Cornou, a noted historian for the FIVA. The speedometer works, the connections are intact, and based on the condition of the car and its sedentary history, this is believed to be the correct mileage.
The car remains in its untouched state with rare originals such as the rear-wheel spats, the hand-operated shutters in front of the radiator, the turn indicators, and original carpeting. The dash cigarette lighter was replaced by an instrument, but otherwise, there are no changes. We believe this to be the lowest mileage and most original BMW 328 in existence.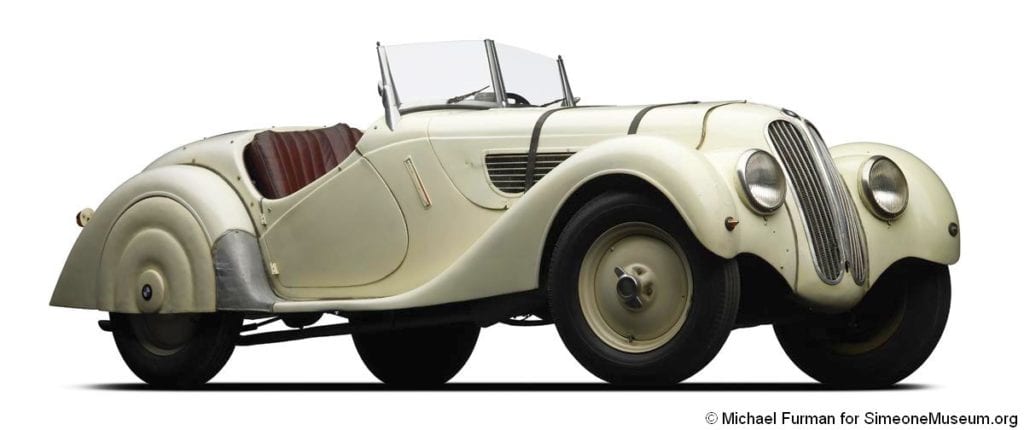 View Related Videos