This car won the first German Grand Prix at the famous Nurburgring race track. They built only 8, and this is the only one which still exists in an original condition.
THESE CARS
There was a confluence of unusual factors which led to the development of the iconic S series of Mercedes-Benz cars. They had already produced eight 4-passenger racing and most of them took part in early racing events but given that Mercedes (Daimler) and Benz formally joined together in 1927 was a celebratory issue. Both companies witnessed declining sales with only 1,372 cars and 830 trucks being built in all of Germany. That same year they built the great Nürburgring track in the Eifel mountains, comprising a north and south trail which covered over 17 miles in an exciting circuit with many turns and erumpent straights. It still thrills the world's best drivers.
The ever-present Professor Ferdinand Porsche exerted his sporting influence on company decisions. After joining the factory in 1923, he produced a three-car team which handily won the 1924 Targa Florio race, 1-2-3. Leading the new Daimler-Benz team, he was now responsible for the design of the new models, which included the different supercharged K-Type, but mainly the low, beautiful S series.
The first cars had a 6,789 cc overhead camshaft straight-6 engine with a front-mounted Roots-type blower. Running normally aspirated, the output was 120 horsepower, but when the accelerator pedal floored, the supercharger clutch engaged and spurts of horsepower up to 180 were achievable.
The large four-wheel mechanical brakes were copper-plated for heat dispersion, and the car weighed approximately 3,700 pounds. Three of the first "Sportwagen" race cars, set out on an inaugural race at the "Ring" on June 18th in 1927, where Caracciola was winner of this more or less experimental run. But for the big 18-lap German Grand Prix on July 17th, they fielded a larger group of cars, and the great new sports car finished first, second, and third. Of the five works cars that entered that race, the commission papers show that Rosenberger drove 33676; Caracciola, 33677; Walb, 33678; Werner, 33680; and Merz won in our car, 33679. These low Sportwagens engaged in other, lesser races throughout their career, but soon a larger engine would be required, and the "SS" series evolved, extending the displacement and horsepower some, but producing a higher profile, which style-wise, isn't preferred by most collectors.
Parenthetically, there were reports that after winning the race, the famous Elizabeth Junek, who had won the 3-litre contest in her Bugatti greeted brawny driver Otto Merz, and his hug resulted in three broken ribs. Merz was the chauffer when Archduke Ferdinand was successfully assassinated in Sarajevo, an event which triggered World War I. He later died at Avus in a testing accident.
OUR CAR
The commission papers show Merz drove that 33679 at the Nürburgring. The seriously financially strapped Mercedes-Benz Company was already offering the car for sale as early as September 1927. It was originally scheduled it for delivery to Los Angeles in 1927, but apparently a diversion to Mercedes-Benz in New York was attempted. This fell through, and finally, in June 1928, they shipped the car to Mercedes-Benz Motor Company, 6063 Sunset Boulevard, Los Angeles, California. Its owner, a Mr. Baldwin, apparently picked the car up sometime shortly thereafter. Here the trail becomes uncertain.
The most subsequent information we have is from Mr. Bayard Sheldon, a longtime owner of this car who bravely drove it cross-country and ran frequently on long trips, with and without the usual difficulties. Mr. Sheldon recalls that they reported the car to be a race car which had been imported into this country into the Los Angeles area by a man whom we could not contact. Later, we knew Robert Day of Beverly Hills to have had the car in 1934.
Mr. Sheldon coincidentally met Mr. Day decades later in Florida. Soon after, the car became the property of Fred Torsen, from whom Sheldon purchased it and used it for many miles since. For instance, he took a 3,500-mile shakedown cruise wherein "we were all well shaken." On other trips, he had various problems with the combined magneto and distributor ignition system, and a starter which would not always engage, but basically he always had a "yen to drive it on long trips." The only modification he made was to install a "standby" fuel system and a Packard rear end.
After enjoying the car for many miles, he sold it to Ben Moser in 1973. Ben apparently intended to keep the car, but apparently needed the case flow, so he sold it to me in 1975.
We drove it for a while but then decided that it needed refurbishment and general going over. First, the car had a Packard rear, which they installed sometime ago. Mr. Sheldon advised not to remove this rear, but we had to wait until we could get the proper rear, half shafts, gear carrier, and gears, which were all recovered from a donor car. (The donor was eventually sorted out and was part of the swap for the 917 LH Porsche.)
As soon as we gathered together all the bits, we took the car to Ralph Buckley's shop for his magnificent work. After taking the car apart, we found some very interesting things. Most notably, the brake drums had been drilled in the rear, presumably for lightening. I've seen brake drums on at least four other S-series Mercedes car and none of the passenger cars had this lightening modification. The car also had drilled rear spring shackles. The radiator mount was of the characteristic shape apparently seen only on the first racing eight sport models (according to Mercedes expert verification). Overall, we now were sure we had the original chassis, graced by Buckley's sensitive work.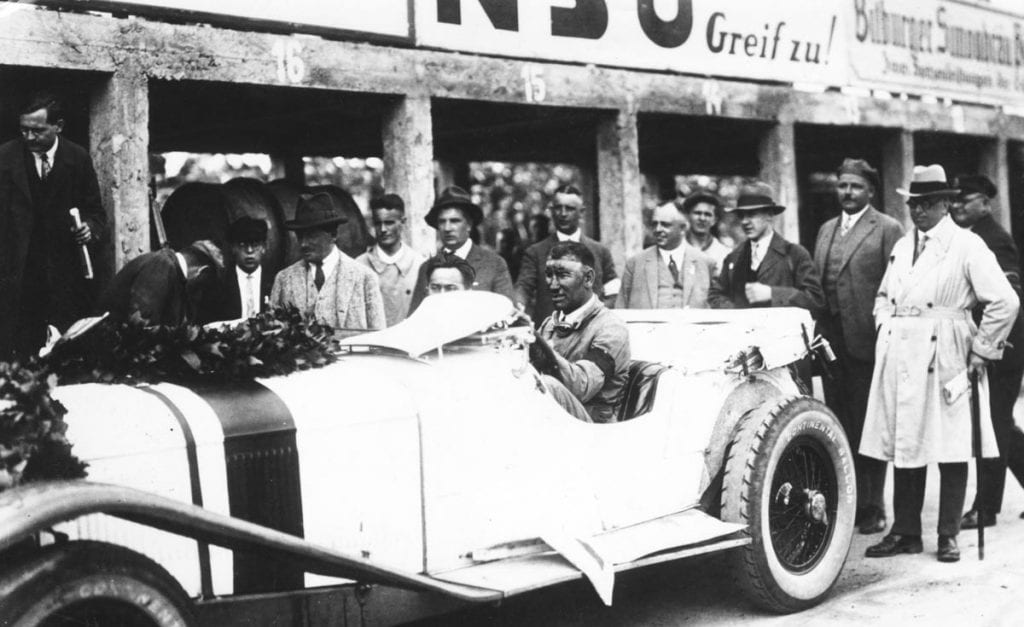 View Related Videos