This was Alfa Romeo's first successful sports car. Our car raced at Brooklands and is one of approximately only nine still in existence.
THESE CARS
In 1921 Alfa Romeo designer Giuseppi Merosi created a race car for the Grand Prix racing formula in 1921, the first competitors produced by the newly named factory (after it was taken over by industrialist Nicola Romeo). These series were called RL (Romeo series "L") and soon a variety of sporting passenger models were made alongside a series of racing cars for Grand Prix competition. The quickest form was the RLSS (Super Sport), a wherein modifications gradually increased the horsepower to its pinnacle of 83 brake horsepower at thirty-six hundred RPM (similar to a contemporary Speed Model 3 liter Bentley) with a capacity of 2,994 cc.
These cars became popular luxury sporting models for individuals like Benito Mussolini who indicated that his car had a "magnificent engine" and the Aga Kahn said of his RLSS "a most interesting and enjoyable journey in one of the most excellent cars I have ever ridden in." As one might expect the RLSS was soon engaged in the sports car racing from 1923 to 1927 with moderate success, Accounting for young Enzo Ferrari's first sports car win. An RLSS did enter the first Mille Miglia race in 1927 when two cars driven by Brilli-Perri and Presenti as well as Marinoni and Ramponi retired after leading in the race. We reckon approximately nine RLSS cars are known to survive.
OUR CAR
I first read about this car in Peter Hull's Alfa Romeo History in 1962. It was originally purchased in 1925 from Alfa Romeo by Douglas Fred Milne Rennie a wool merchant in Leeds. Rennie's better known because his son, Michael Rennie was a popular stage and motion picture actor. At that, time Alfa Romeo only produced running- chasses. One could have delivered a complete chassis with a bonnet and a radiator shell, the rest of the car being left to the carosserie of the buyer's choice. Here one can surmise that Rennie admired the beautiful pointed tail four-passenger Zagato open "torpedo sport" models as shown in the Alfa sales literature. It is also possible he didn't want the body made in Italy. He went to a local body builder, Thornton Engineering Company in Bradford, Kent which produced a fairly accurate duplicate of the Italian torpedo style.
The 1925 car didn't get registered until 1927. The quality of the bodywork is excellent. In particular, the large four passenger top folds neatly into thin panels which circumnavigate the rear of the car from the seats back to the boat tail. She still proudly wears "Thornton Engineering Company" sill plates. In the April 29, 1927 issue of The Autocar two excellent images of Mr. Rennie's "smart sports four seater body on a 22-90 horsepower Alfa Romeo chassis, recently built by Thornton Engineering Company Limited Manningham Lane, Bradford," were demonstrated. The car's current appearance is identical.
In the hands of subsequent owners, the car saw activity at Brooklands. We purchased the car, complete with a detailed history, from a Bonhams auction on July 12, 2002, at the Goodwood Festival of Speed.
Currently, the car performs admirably. They have preserved it in an interesting manner. For instance, the trim in the rear seats and on all the door's panels are original. The front seat upholstery, presumably because of wear, needed replacement, but I have done it with care, matching as closely as possible the original. Other than that the dash panel is complete and intact as are all the mechanical parts. Pump up the gas tank pressure until it reads enough, switch on the magneto and she is off in just a few turns. The car has required very little fettling since its acquisition.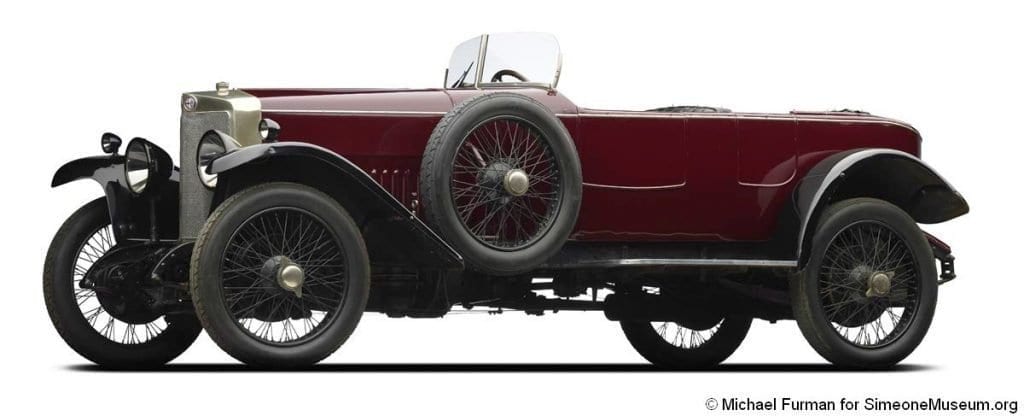 View Related Videos