This model was the 1st American car to break 100 mph in stock form. Our car is one of less than 5 in existence.
THESE CARS
The Paige 6-66 has received less credit than it deserves but this may be because it is basically a simple car without outstanding design features. On January 21st, 1921, at Daytona Beach, FL, one broke American stock car records for speed when it covered the measured mile in 35.01 seconds, a speed of 102.8 miles per hour. The Contest Board of the American Automobile Association officially recorded these results.
Without an extensive review of stock car record history, this appears to be the first American-made stock car which exceeded 100 miles per hour. If so, Paige deserves their bragging rights as seen in the advertisement. In addition, world stock car chassis records were made by the Paige 6-66 Daytona model at Uniontown in May 1921 where it reached 91.8 miles per hour and at the Cotati Track, in May 1922, where one car reached 96.9 miles per hour.
At the time the internationally recognized outright land speed record was 124.01 miles per hour set by Hornstead in a 200 horsepower Benz at Brooklands in 1914. Considering that the Paige was running in "stock" tune, the 102 MPH record at Daytona is remarkable. Later on a special Paige, basically in stock tune, set the record in Australia, traveling from Brisbane to Adelaide in 68 hours.
The engine was a conventional flat head 6 cylinder Continental capable of 66 horsepower and the chassis, similarly, held no excitement. The body style was attractive and more streamlined than other cars of its era. Remember, however, that in the early 1920s, there were precious few cars of any make that we could consider sporting, with Paige, Mercer, Kissel, and Stutz occupying this very narrow market.
OUR CAR
Our search for the first American stock car to do 100mph "out of the box" was unlikely because less than five Daytona speedsters were known to exist. Finally, this car was purchased from Nelson Argueso of Pomona Beach, FL in July 1973. He bought it principally "Because my father-in-law had one in 1922". Its owners previous to Mr. Argueso are unknown but he restored the car himself and put it in excellent mechanical and cosmetic condition two decades earlier, indicating that "We got quite a few firsts at important shows".
It was clear that Nelson, now in his later years, would miss the car which had to be transferred to other hands. We found it remarkably complete, we finally worked out the details of the rare Atwater-Kent distributor, exclusive to this car. She always ran well and recognizing how little there was in performance cars in 1921, she made a good showing as a representative of the dark ages of American motor sport.
Observers were always fascinated by the seat which would slide out precariously from the side of the body with an armrest that would fold up and a footrest hinged to the running board. The outboard position of the passenger in this frightening location gave this type of seat the affectionate moniker of "mother-in-law seat", a term which stuck even to this day although only a few cars ever took advantage of this space saving device.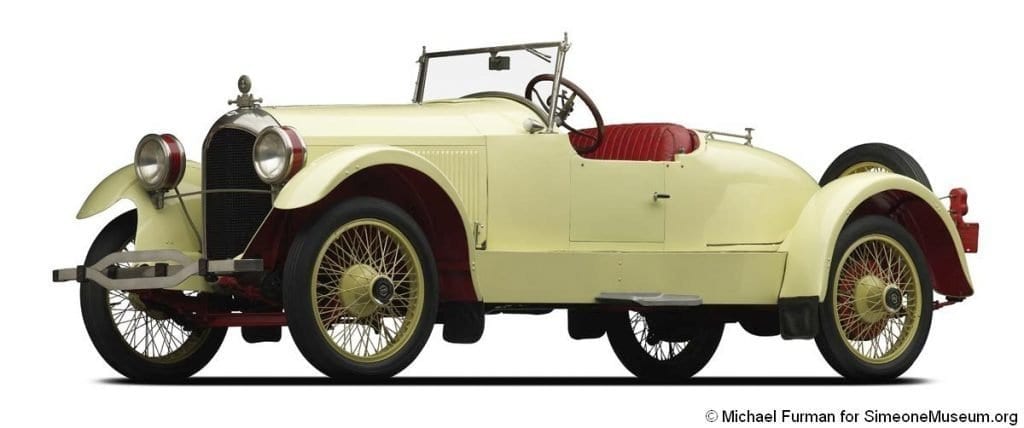 View Related Videos