The National was the "Fastest stock car in the world". Our car is in unrestored, original condition, and is the most powerful of the 3 cars in this exhibit.
THESE CARS
In 1912, a stripped down National "Semi-Racing Roadster", identical to the car in the collection, won the great Indianapolis 500 race. This was the first and only time a stock car ever won that important competition. By removing the fenders, adding a straight through exhaust system, and other basic modifications, Joe Dawson could outlast other competitors in this grueling trial, averaging 48.22 MPH. The decision to enter this by the Indianapolis based company was on a lark, probably the result of their autochthonous relation with the track.
National had the most enviable and successful career of all the American pre-World War I race cars. For instance, in 1911, in a combination of road races, speedway races, hill climbs and dirt track races, they won 84 times, came in second 48 times and third 30 times. The huge 7 liter, four-cylinder T-head had staying power. From 1910 to 1913 they cataloged a model 40 semi-racing roadster with larger carburetors, engine modifications, and no place for any electrics. It was a pure road racer which earned its on-track record by sheer hard work. Then suddenly, in 1913, they stopped racing.
National was a luxury car which had a glorious, but relatively short-lived competition career. They did most of the racing between 1910 and 1913, at which time it rivaled and beat most of its competition. After World War I, however, financial difficulties ensued, and the company changed hands one or two times before its demise in the early 1920s.
OUR CAR
It is clear that this car has spent most of its life in California. According to the records of the Los Angeles County Museum, they gained the car sometime around 1937 from a donor in San Jose. It is interesting to speculate on a perhaps romantic history here. An interesting photograph shows a young Bing Crosby seated in a National semi-racing roadster with California producer George Cox at the wheel. This car has all the external features identical to the collection's car. Based on Crosby's age, they probably took the photograph in his late teens.
In 1943, some members of the Horseless Carriage Club of America photographed our car in the Los Angeles County Museum as it appears today. Records show that in the 1960s, the car was "deaccessioned" from the museum to the famed race car collector Lindley Bothwell. According to Mrs. Bothwell, they subsequently sold it to the Harrah Collection some time in the 1970s. Our collection got the car shortly after the auction sale of many of the cars in the Harrah Collection. Few of these road racers were sold. Could this be George Cox's?
She is basically unrestored with most of its original upholstery. It has been repainted National Gray, but, otherwise retains its original features, included nickel-plated bright parts, linoleum, and all mechanical features. Without a starter, this car must be cranked and at 441 cubic inches, it is quite a feat to get it running. Once in motion, the ride is powerful and exciting, although the nugatory brakes require one's thinking ahead before attempting to stop. This is the rarest and most powerful of the great pre-World War I sports car racing trio in America; Mercer, Stutz, and National. There is only one other original Semi-Racing Roadster know by me to exist.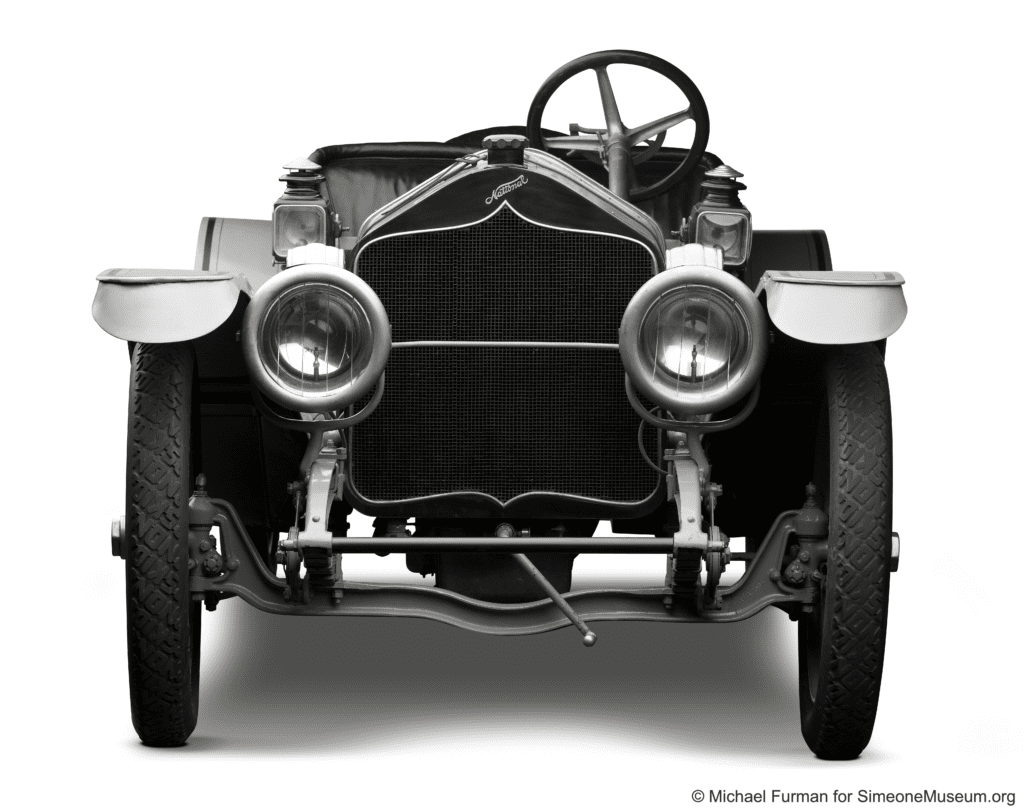 View Related Videos
GET UPDATES ON THIS CAR